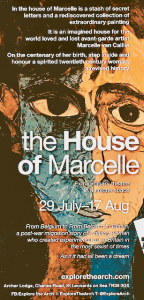 After a very successful #ATownExploresABook19 festival in St Leonards on Sea, and in particular the #TheHouseofCrusoe performance series, Explore the Arch are delighted announce their forthcoming summer project which opens a new Season of Exquisite Moments. The theme is migration. Marcelle van Caillie was a Belgian artist who settled in London in 1955. A stash of her paintings have arrived at Archer Lodge, not viewed since the artist's death in 1991. These and her letters from 1955 will form the foundations of The House of Marcelle.
Explore the Arch look forward to joining visitors in an investigation of the many remarkable aspects of Marcelle's life: an unusual childhood as the daughter of a French secret service spy, her early success as a solo artist exhibiting at the Palais des Beaux-Arts at the age of twenty one, and her wartime experience of losing the four hundred trees she adored to occupying forces. These moments are all glimpsed in the letters written to her British lover as she attempts divorce to begin a new life in Britain with the hope of painting freely.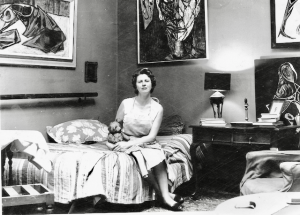 The theme of this PERFORMANCE WORK is MIGRATION which is so relevant now in 2019.
For a take on this see 'A kitchen Sink'  in the page on her 

And to explore this exciting performance, see

http://explorethearch.com/index.php    Just click on the little 'Marcelle' window and follow through.