Marcelle has also been  prolific in the field of gouache when exhibitions demanded them.

Her works on paper, with their condensed, yet controlled expressionism, are analogous to and complement the larger works. A  series of gouaches, for the Marjory Parr Gallery in Chelsea, has revealed an  exploration of a family of images concerned with a honeycomb cellular-like structure achieved by means of spraying paint across masking elements. As in the fibreglass reliefs, technique, indeed technology, is finely balanced by a sensitive and romantic vision.

A series of Gouaches (some in relief) for the Marjory Parr Gallery, Kings Road, Chelsea.

By Sheldon Williams        Special to the Herald Tribune
LONDON, Sept. 19  -Women are courageous in the arts. Despite the assumption of sexual equality in the second half of the 20th century, it is still a recognizable triumph when Niki de Saint-Phalle plays a leading role in the creation of the monster sculpture-construction "HON" (stretched out all summer on the floor of the Moderna Museet in Stockholm).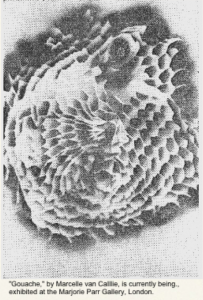 Such persistence pays dividends. Marcelle Van Caillie, for instance, made a fast reputation for herself when she became the youngest artist ever to have an exhibition at the Palais des Beaux-Arts (Brussels) in her native Belgium.
  For the last ten years she has been resident in London. Change of address has brought change of style. By 1960, she had totally abandoned figuration and portraiture and had begun her experiments in fiberglass. She was one of the first to build up three-dimensional relief on the canvas.
  Her present exhibition of large gouaches at the Marjorie Parr Gallery emphasizes her current interest in cellular construction. This is her first showing since the closing of the New Vision Gallery, which was previously her London gallery.
  Also at Marjorie Parr, in the other gallery, is a fine collection of works by Henri Hayden, Ivon Hitchens, Matthew Smith, Alfred Wallis and Jack Yeats.
  In Van Caillie's work one looks for originality.
OTHER GOUACHES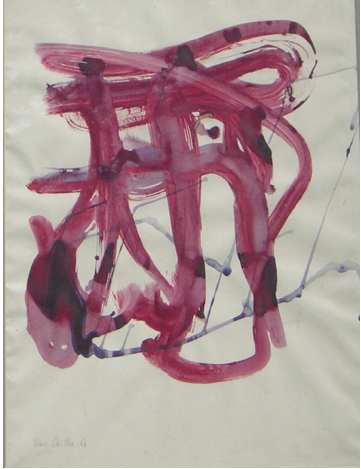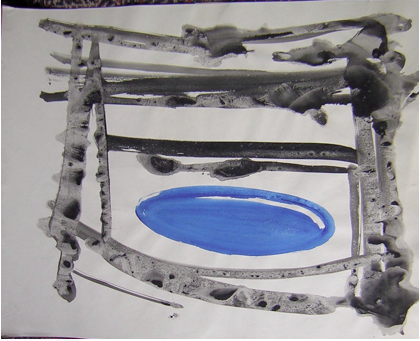 DRAWINGS
Her draughtsmanship was precise and expressive.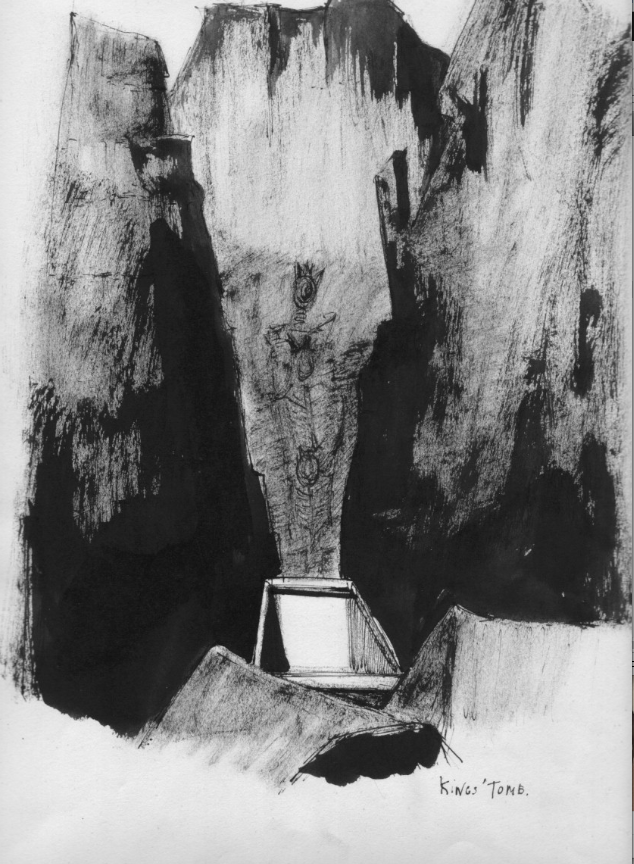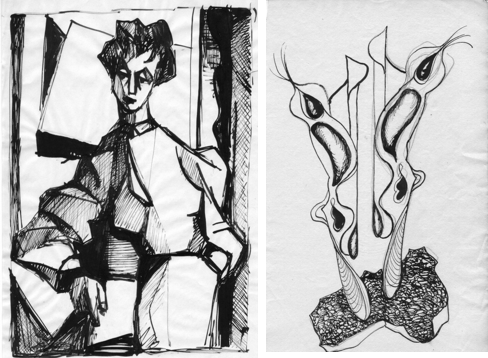 Studies for the 'Big Heads' series.
A water colour of her 'in-Laws' home  in Herefordshire and. below, the view from the same spot  showing Ivington Roman camp.