Her experiments with what was later to be loosely called ' Matter Painting ', with surface and texture as the essential subject of the work of art, were at a very early date.
She was, without doubt, one of the pioneers of that idiom in the UK. Working first with felt stiffened with Polyflla, Wood, sand, coffee grounds and even dried peas, she quickly discovered the potential of fibreglass, a material then not considered in terms of fine art.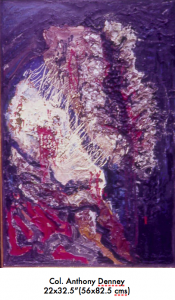 This picture Anthony privately named 'Petits Pois', these being a constituent.   It is recorded in the collection of the late Anthony Denney, of 1956 (Contemporary Art Sociaty Catalogue, 5/12/1957, No 62, "Red & Blue" 24×36", with short biography).    Another picture in the same collection, of 1958, shows  this technique brought to its obvious developmont, where, although still a definite painting, it resembles a sculpture for the wall.    Tapies and Burri were collected by Anthony Denney.  Marcelle saw them at his house in St Peters Square and this  reinforced her initial interest in texture although she also incorporating a strong emotional element.
Pierre Rouve wrote 'This is also the difference between Marcelle van Caillie and a host of artists who have placed their faith in brute matter: some, like Tapies, have soon bent its independence under a beautifying yoke. Others have followed Dubuffet's lead and have reduced its alphabet to a few letters capable of conveying only baby talk and infantile emotions. Marcelle van Caillie is seldom tempted by such inverted sophistication : she dares to be crude only to be true.
Her sense of the feel of paint and impasto becoming a preoccupation with texture which in turn developed into high relief.
Her work soon evolved into reliefs using canvas or felt strengthened with plaster-like 'Polyfilla'.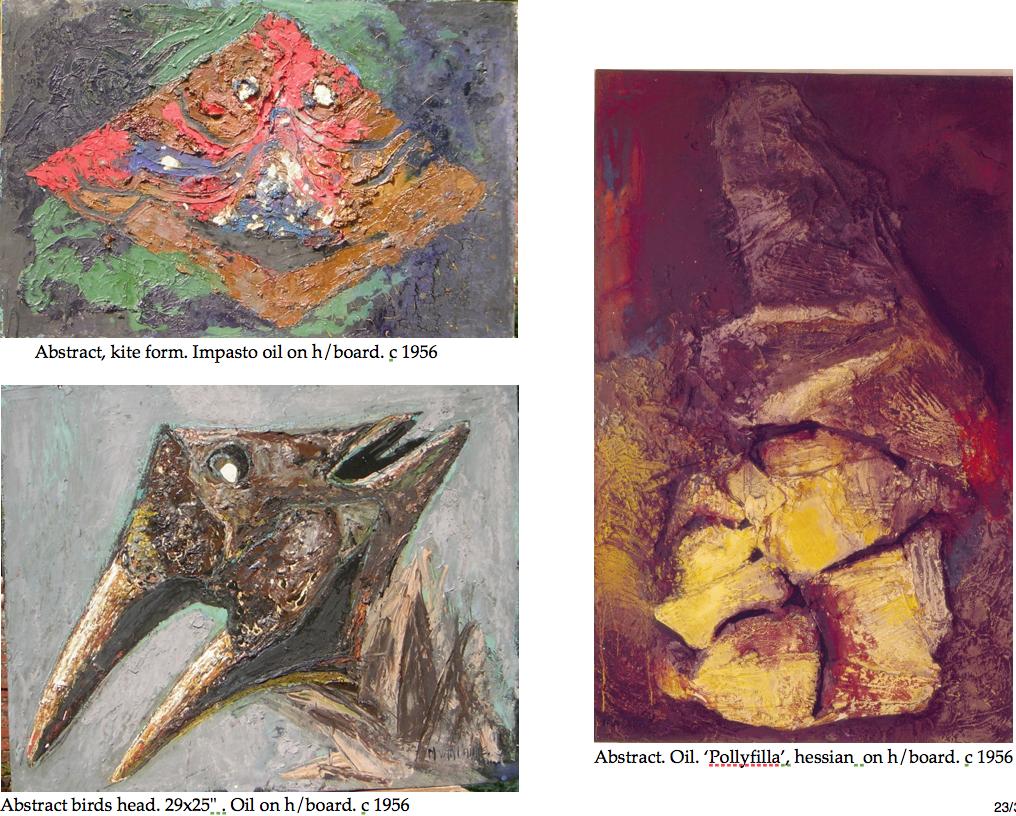 This experimental phase was passed over quickly.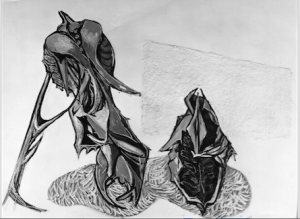 ←This picture (4×3′ white on hardboard) was used by Anthony Denney for one of his room arrangements for  'House and Garden'.
The chicken carcass motif has a white area of 'matter painting' (coffee grounds).
(Anthony Denney, was a fashion photographer and the major "taste-maker" in the arenas of fashion, art, design,  bringing to the fore the ways in which modern design and avant-garde art were promoted and mediated including in that of the domestic interior, the furniture showroom and retailer's shop floor, and the representational space of the fashion magazine.  For more see under 'Contemporaries')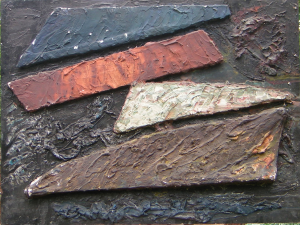 Abstract relief 48″ x 36″.  Oil on polyfilla & H/board